Have you ever wandered past a monument or 'secret stone' dedicated to some soldier or war event that you either dismissed or just wondered what it was all about? You look at the name, you sight the collection of odd letters after the name … you try to make some sense of it, but you really can't. Do you know that as the good folk of Thurgoona, you have one of those little 'secret stones' close by—it's in Bishop's Walk off Ironbark Way—and it concerns my grandfather Charles George Bishop.
I can tell you of how that little stone might talk and tell you of how Charles walked his 'soon to be bride' through this landscape and perhaps reconstruct a romantic walk with a returned soldier and a Knobel daughter; a stolen kiss away from the parental supervision of a German Thurgoona family. I can also tell you about those letters that follow his name—the 'business' of war—but more importantly I can tell you about my Charles; my grandfather. Let me begin; let the stone talk.
Charles was a kid from a troubled family. He left school at eleven, his mum died when he was sixteen, his sisters disappeared, and he was alone. With nothing much to lose he sailed to Egypt and France in 1915—and to find his family in the 18th Battalion. Did he set out to be a hero? I think not. He was a single young bloke, from Lavington, barely 20 years of age, seeking adventure. Was it to serve God, King and Country? Unsure but it is what others were doing so why not … a devil-may-care adventure. He fought valiantly with remarkable courage in all those battles. You may recall images: mud, rats, lice, decaying bodies—of equivalent men of the German army. Yet within a few years of his return he married my Nan whose family migrated to Thurgoona from Germany. Funny that his memorial stone is in Thurgoona—where all the Germans settled.
I found that I just wanted to really know my grandfather for he died when my dad was six years old. I went to the Somme in France and cycled to his battlefields; and I stood alone on them. I heard the guns; my olfactory system was alerted to war. In Belgium I found Pont Rouge, where he was awarded his first Military Medal and I found Hangard Wood, where he was awarded the Distinguished Conduct Medal—the next one up is the VC! I stood in front of the Australian memorial at Villers Bretonneux and the reality of my grandfather's war story finally hit me.
In December in 1918 he did come back, wounded and broken. So, let me tell you about Charles and his last years in Albury—so the Bishop's Walk stone may 'speak' to you.
He was working as a labourer when he married my grandmother, May Elizabeth Knobel from Thurgoona in June 1922. She was 26 and Charles was 27. They went on to have two children, Joyce and Leslie.
He worked hard and bought a house, with a paddock next door. He gave the children a pony and they also had a car—a rarity in those days—called 'Lizzy'. The house was large and filled with laughter and people, according to Joyce. This was often a church related fund-raising event as Charles had converted to Catholicism when he married Nan; she was a formidable woman!
Charles had risen from the mire that had been his first family and begun a new life of his own with a family he created. Joyce, his daughter, told me (with a little tear in her eye) that there was one thing she regretted. Charles had designed and had made raincoats that covered Joyce and Les and their bikes and he insisted that they wear them whenever it was raining and especially when they rode from Newmarket to school. Joyce says they both bucked but now she realises that Charles didn't want to see his two little children wet. Was it the memory of the trenches in the Somme of 1916? I asked Joyce if Charles was ever sick? Was he emotionally unwell at any time? She laughed!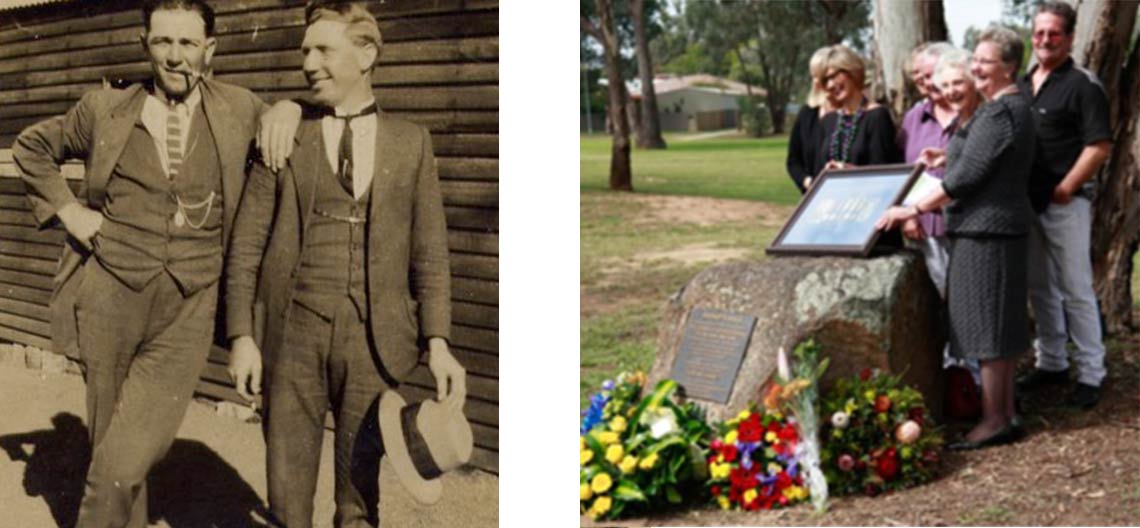 No Janine, he was a remarkable man. He was a fun-loving father and we always felt loved. We'd pour over his photos from the war and he'd tell us stories about the photos and the people.
In 1924 he had been employed as the Inspector of Nuisances with the Hume Shire Council. Reading from his little green diary of 1931, I saw that my grandfather spent his final year of life travelling around Albury, inspecting for "Bathurst burr, stinkwort and diphtheria". In the back pages was a cash summary and the family's year began with a balance of £112 9s 6p but by October it was down to £50. He and his family were living through the Great Depression and by all accounts managing well. His last entry was on Tuesday 8 September 1931 when he wrote, Lavington to engage D Livermore to cut burrs also got my mattock sharpened and seen P Carsters about tipping rubbish in creek. This I find strange because up until then there was an entry every day (except, of course for Sundays!) but from Wednesday 9 September until his death on Thursday 17 September, nothing was recorded. Was he sick? Was he working? Was it noticed?
On Tuesday 15 September 1931 Charles remained in bed. He did so for two days. Joyce tells me she was told he had a sore throat. On Wednesday night the ambulance came and took him to the Chelvey Private Hospital in Albury. Joyce remembers the next day she was told that, Dad has gone to heaven. She ran out of the house and hid in a shed for hours, sobbing. She returned hours later and began the preparation for his funeral. She was taken as an eight-year-old to his coffin and she said goodbye.
Charles had died of septic pharyngitis and cellulitis and his death certificate indicates that he suffered for four days and twelve hours. Could he have contracted the infection from the people whose houses he inspected for diphtheria? Did the war and the gassing weaken his capacity to fight off those germs?
The day after his funeral my Nan drove his car to the police station to get a licence and so began her life as a widow (and a driver)—a life without Charles and a life that was never without him being somewhere nearby. His medals over the fireplace became her connection to him and indeed now, the plaque on the stone is your connection, as citizens of Thurgoona, to my Charles.
My Nan from Thurgoona went on to raise her two children, care for her single brother Alf and her single sister Maude. She successfully lobbied the Federal Government to gain a war widow's pension and she worked tirelessly for Legacy, the Mercy Hospital and the Catholic Church in Albury. After many years of campaigning she managed to have this small park in Thurgoona named after Charles—Bishop's Walk. May Elizabeth Bishop died in 1990 aged 94, fifty-nine years without her Charles an experience that was a war to end all wars!
So now we have a small-bronzed plaque in Thurgoona's Bishop Walk, so beautifully and respectfully placed by the Albury SS & A and the RSL in 2012. When you pass perhaps, you'd like to think deeply before committing men like my grandfather and his mates to hell—the hell that is war. It had happened before, and it has happened since. Man's inhumanity to man drives us to strange ends. It is a sobering thought for me that my grandfather, the man I never knew, is honoured in Thurgoona for bravery, for defending France and Belgium and the British Empire. And yet to be honoured, he was trained to kill his fellow man. It saddens me deeply, yet there are few alternatives.
When you pass by that little stone with a Bishop name on it, think of peace and how we might find it—that is my grandfather's legacy—on that little plaque in Bishop's Walk.
I finish with a quote from Albert Einstein:
Peace cannot be kept by force; it can only be achieved by understanding.
Janine Agzarian
(Granddaughter)
As previously published in Grapevine Newsletter July 2012