Work Placement
At the Thurgoona Community Centre, we have had immense benefit from the many dedicated work placement students who have so passionately embraced their work at the centre. These students have not only been able to complete their work placement hours, but have invested who they are into the work that we have made available. Without them, major programs could not have progressed and we are richer from their involvement. Here are a few of their stories.
We also have the amazing support of local volunteers who come alongside these students and contribute to their quality of experience at the centre. They are the backbone of the success that we enjoy. If you enjoy working with young people and would like to help, please give us a ring on 6043 1588
Over the past decade, TCC has accommodated over 20 work placement students. Each has utlised different programs to fulfil their assessment requirements and so experiences have varied emensely. Using TCC for work placement is all about the right fit. It is a benefit to both the student and the organisation.
Savannah Page
Thurgoona Community Centre has been a wonderful and ideal work place to complete my placement hours for my Diploma of Youth Work. When I was ready to start volunteering in the community I went to the Albury Wodonga Volunteer Resource Bureau to get started. They sent me to the Centre because they were looking for volunteers for the Chill Zone youth programme. It turned out that I could complete my hours here too for my OTEN studies which was a bonus I thought.
Everyone is so welcoming and friendly; I was never anxious at all meeting new faces every day. The Coordinator, Sherylyne, has been amazing help and I have learnt so mu
ch from her already about this new career field. 
I love the flexibility and freedom I can have at the Cent
re, they put the control into the student's hands. Heather, the Placement Coordinator, is doing a fantastic job. As I am completing my diploma by distance it's great to have someone checking up on how I am going and she is so willing to help with anything the students may need.
The Chill Zone group is just fantastic and has been a dream place to start working with youth. The kids are amazing and they remind me each week why I cannot wait to complete my studies.
There is a planet of opportunities at the TCC for students to complete their hours or for any Thurgoona residents wanting to give back to their local community.
I will be a volunteer for life after meeting such beautiful people at the Centre.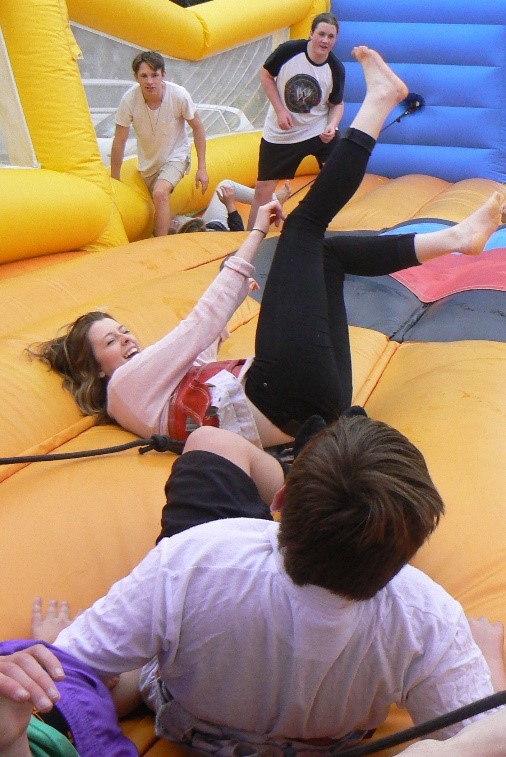 Felicity Baker – Diploma of Youth Work
During my time at the Thurgoona Community Centre I have learnt a lot from being in a welcoming work environment.
I have developed as a person and gained confidence. I was encouraged to step out of my comfort zone and pursue in trying new things. Working with youth is what I want to do as a career, and doing my placement time at the community centre has made me confident that I will go far. The volunteers at the community centre were amazing to work with and have taught me a lot just by talking to them. Sherylyne has been an incredible help throughout the placement. She was fun and made everything we did there exciting. She also encouraged our everyday hobbies to be used at placement by getting me to pick the colour of the bean bags for the youth space. I enjoyed my time there because every day felt like a new adventure that I couldn't wait to start.  Because of my time at the centre I can't wait to start working with youth.
Kristen Bullivant – Diploma of Community Services
Throughout my time at the Thurgoona Community Centre I had great experience for my first placement during my studies. It gave me a great insight into the community and how everything works. I was lucky enough to be involved in the grant process which I have never known anything about so that was interesting. I learnt how important and beneficial networking is, I got to sit in at an Albury City Council Youth meeting which was good to learn about different issues that were getting discussed and the process of events they were planning.
During the first couple of weeks at the centre I was asked to be team leader, usually I am very quiet and not that confident around people I don't know that well however I thought I am at placement to learn and experience new things so I said I would do it. Being team leader was a great opportunity to step out of my comfort zone and put myself out there so I'm grateful I was given the opportunity to do so. I have gained a lot of confidence after my placement and to have a little more faith and confidence within myself. My experience has showed me the significant impact that volunteers and passionate workers have to help keep the community events and programs progressing and that they have a great spirit.
I met a lot of amazing people throughout the weeks I was at the centre who all helped and supported me during my time there, I felt very comfortable there and would suggest this placement to anyone.
I will miss everyone there and will keep in contact to see how the program and everyone is going.