The TCC Office hours are Monday to Friday 9.30 am to 4.30 pm 
During the Christmas break the office will reopen on 11th January during the morning and then fully on 18th January 2022.
P: 6043 1588 or M: 0492 139 722. 
Please do not attend if sick. Follow good hand hygiene practices. 
Child and Family Health Clinic at TCC ring 6043 1038 for appointments.

 
Mondays – Kate 9:00 am – 4:30 pm
Tuesdays – Carly 8:30 am – 2:30 pm
Wednesdays – Carly 8:30 am – 2:30 pm
Thursdays –  Kate and Carly 8:30 – 4:30 pm
Fridays –  Kate – hours vary
The Breast Feeding Hub on Mondays will commenced again until further notice
At TCC
All groups will return in 2022 at their usual timeslot. Please contact your group leader for more information or check out the program information on our website. 
Here is a list of group activities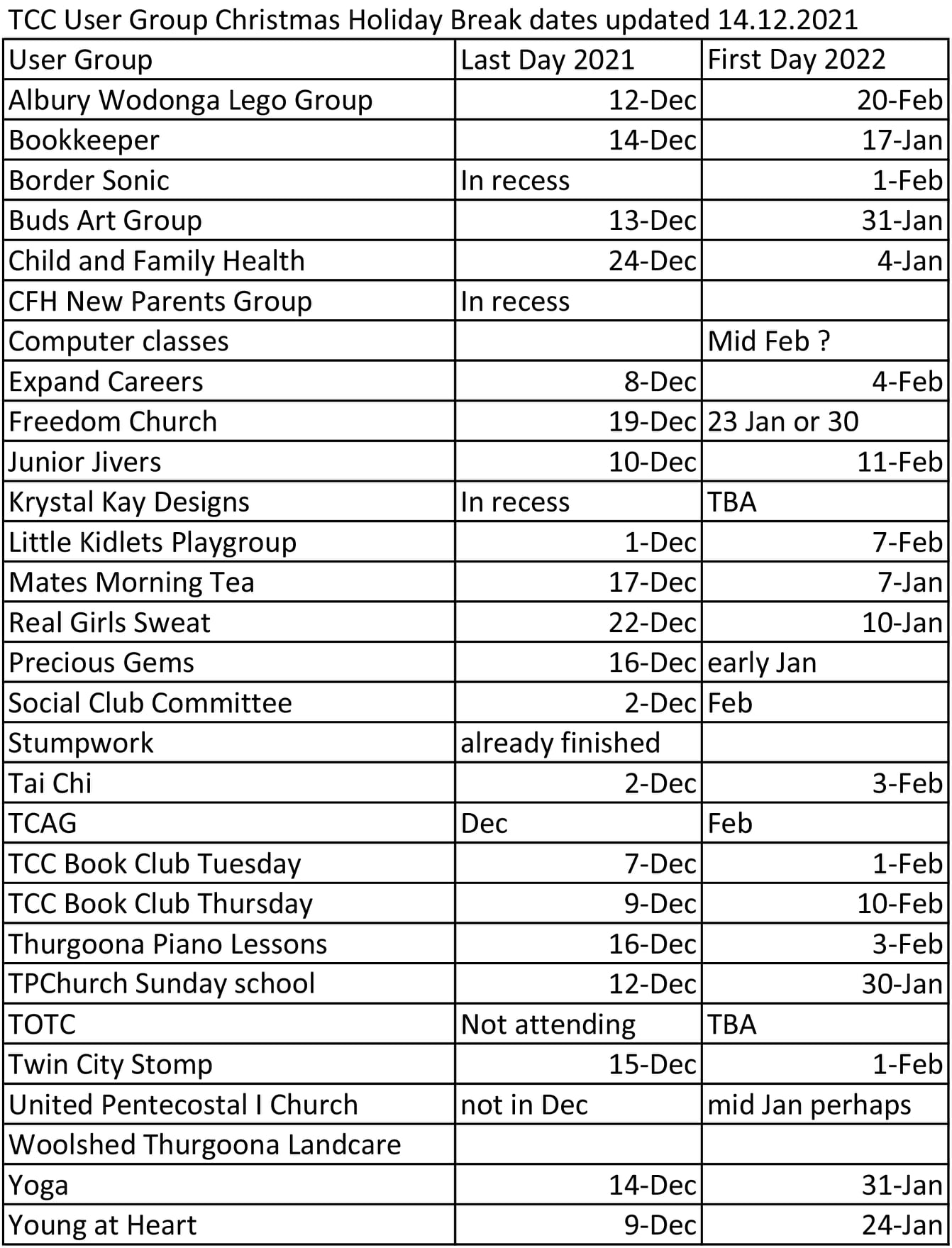 Fitness classes can be joined via Zoom Monday, Tuesday, and Thursdays when they return in January:

TCC Building Use
Unless Government restictions change, the NSW roadmap allows use of facilities without restrictions on capacity. 
The TCC buildings are available for hire for new groups and for community functions. 
Information:
There is a very large quantity of information being provided around the Covid-19. 
If you are worried about your health, it is not recommended that you self-diagnose but are guided by the following:
Visit your GP
Call the HealthDirest Helpline on 1800 022 222 for advice from a registered nurse for 24-hour non-emergency advice
Call 000 in an emergency.
National Coronavirus Helpline – For information on the coronavirus disease (COVID-19), call the Australian Government's National Coronavirus Helpline on 1800 020 080.
Department of Health Coronavirus Health Alert – This contains the current situation of the national alert and has information about COVID symptoms and when to seek testing. https://www.health.gov.au/news/health-alerts/novel-coronavirus-2019-ncov-health-alert
Healthdirect coronavirus webpage – This provides a range of information including frequently asked questions and general information about self-care. https://www.healthdirect.gov.au/coronavirus
Corona Mental Wellbeing Support Service – Beyond Blue has provided support for various situations. This includes a phone link to counsellors, an online community forum, information, advice and strategies and a list of helpful resources for many different situations https://coronavirus.beyondblue.org.au/
Suicide and crisis support – If you are at immediate risk of harm to yourself of others, please contact emergency services on 000
If you need help call Lifeline on 13 11 14